Everyone knows that sexually transmitted diseases are nothing to joke with and being free from them after a long-term battle is definately worth celebrating.
This is the case of Kemi, Lyta's Baby mama, who has been battling STD she contracted from her baby daddy, Lyta for almost 2 years now, but thankfully, her body has fully gotten rid of it.
Kemi shared the great news via her official Instagram account,
letting her fans know that her last test results confirmed that she is now totally free and clear of STD. Also, his son, Ari did not get infected during his birth.
In her words, After 1yr & 7 months of back to backtest and treatment, i was contacted today that the test I did on Monday results came back with me being FREE and clear from STD that I contacted from Lyta
AND also Aariiiii didn't contract it during his childbirth, receiving this news just 2 days before my child is ONE is THW greatest gift, like wowww. WHAT GOD CAN NOT DO DOESN'T EXIST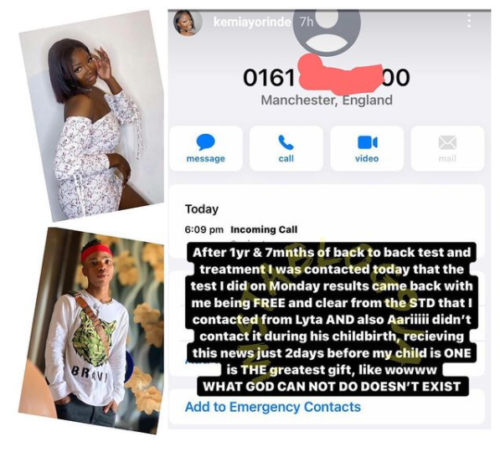 A lot has been going on between Lyta and his baby mama for some months now. First, it was publicly calling him out over child support, and then she moved to call out his manager, who she claimed has been a roadblock in his career and success, to demand an apology from Lyta and a gazillion other things.
https://tooxclusive.com/baby-mama-kemi-celebrates-being-free-from-the-2yrs-std-she-contracted-from-lyta/