Cameroonian-born singer, entrepreneur, and fashion designer, Dencia has advised against saying that dead people are now in a better place.
As per one of her recent posts, the grieving singer, who has just lost her sister, Rebecca to brain cancer revealed revealing that using that phrase is particularly annoying.
She goes on to add that people are not sure of their position in the hereafter, because they have never been there, so it is utterly out of place to assume that they are now in a good place.
She also adds that saying they are no longer in pain is relative, as her late sister was never in pain though out her 3-year battle with cancer.
In her words, "When someone dies, telling someone they're in a better place literally is annoying. You don't know that u've never been there, it's not a consolation cuz it's the unknown & we all fear the unknown.
Saying someone isn't in pain anymore, not all sick people are in pain. My sister wasn't in pain, she didn't take pain meds throughout her 3yrs battle with cancer surprisingly."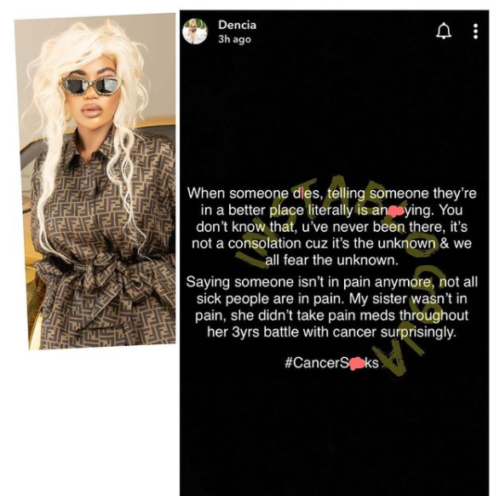 https://tooxclusive.com/saying-someone-who-passed-away-is-in-a-better-place-isnt-cool-singer-dencia/