Nigerian songstress Simi has reacted after a Canada based comedian, MC Morris accused her of biting his fingers.
On Thursday, MC Morris hopped on IG to recount how Simi betrayed him. According to him, he sacrificed a lot for Simi to attain the fame she's presently enjoying with no form of payback from Simi.
MC Morris shared not one, but three occasions he had to go out of his way to save Simi from trouble. He recounted how he had to pay #500,000 in 2011 after Simi fucked up at an Akpabio event in Uyo. Also, how he reached out to her in 2016 to perform at his show and her management asked him to pay millions.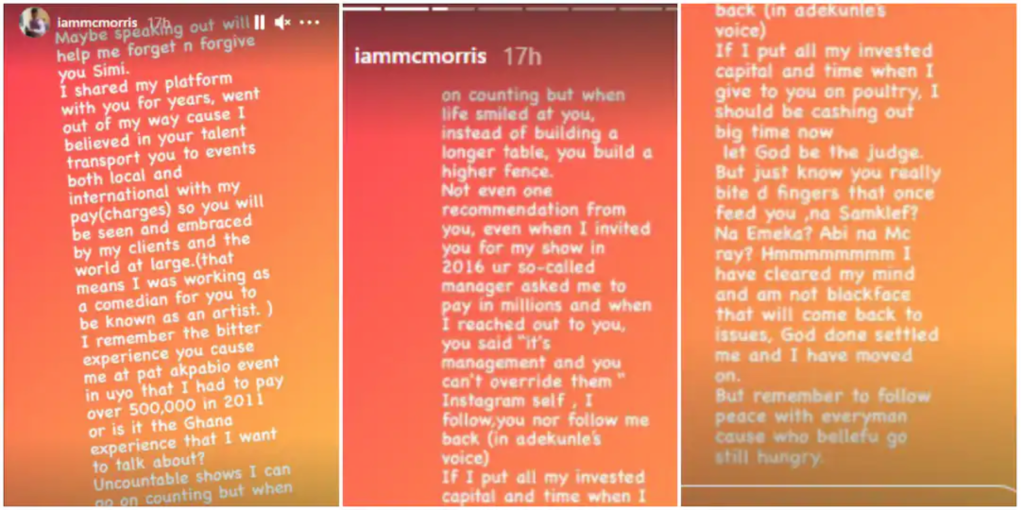 He said Simi didn't do anything, instead she advised him to pay that "it's management and she cannot override them". Morris made it clear that he is speaking his mind to see if he can finally forgive and forget everything she did to him.
Reacting to the judgmental comments Netizens have been dropping in relation to MC Morris' post, Simi took to Instagram to say her piece. She reposted a celebrity's post and captioned it: "Lol this is why you should never take the internet seriously".
See Post