A Nigerian mother has reacted to a viral tweet that says a career woman can't make a good wife and mother.
One @Galadima_Samaru from the Northern part of Nigeria, had taken to Twitter to make this statement, while asserting that it's not possible for a career woman to keep a home.
He wrote in part,
"There's just no way a career orientated woman would be a good wife and a mother. It's not possible.

So many homes have been broken because women due to western advanced individualist notions believe they have a right to have a career & the same time manage a home and be a mother.
Nothing could be further from the truth.
Take a cursory look at western nations today, it's a broken wreckage all because women have abandoned their natural responsibility to chase after worldly glory."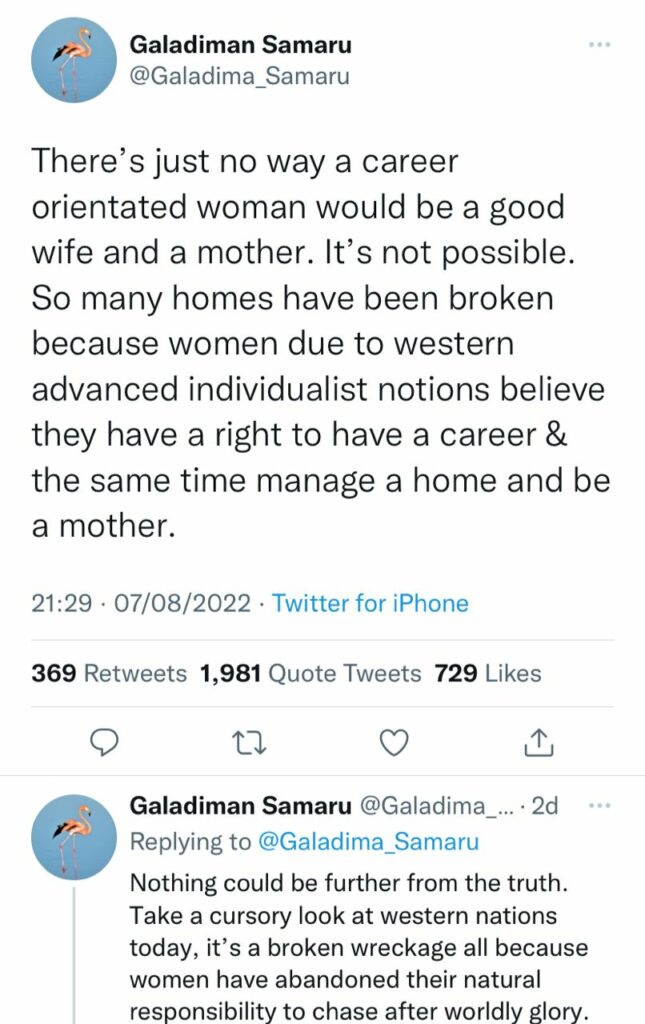 Reacting, a Nigerian mom, who is also from the North, told men with the same mindset to stay away from her two daughters.
According to her, she is a former banker who now owns a school, and she wants one of her daughters to be a doctor while the second one, a lawyer, and she doesn't want men with such a mentality around them.
@BadiyaMani wrote,

"I have 2 daughters. One is training to be a doctor. The other is training to be a lawyer. In sha Allah. And I, a former banker and a school owner presently, advise you to stay far away from both of my daughters if you have this mindset
."