A Nigerian businesswoman has revealed that she recently dumped her 40-year-old boyfriend for knowing the full lyrics of fast rising singer,

Asake's

hit single

'Palazzo'

.
Taking to Twitter, the young lady, identified as Farida Kabir, said she had to end their relationship because she found it irky that a full grown man would lose his manners whenever the song comes on and starts singing along to it.
She said when she couldn't take it anymore, she decided to break up with him.
@reedahkh tweeted,
"I served someone breakfast recently because he knew the lyric to palazzo from beginning to the end. As a 40+ man, and he'll be following the song with energy whenever it comes up. O wrong naw. I couldn't take it gaskiya. Had to off him"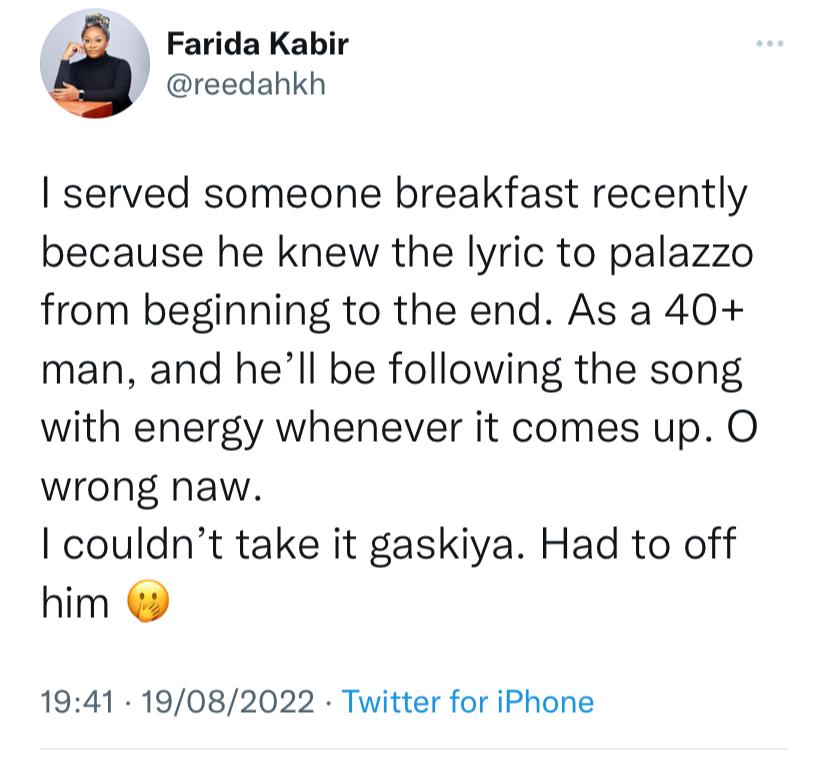 Her tweet has stirred mixed reactions from social media users, who asserted that there's more to the story and she didn't dump the man for that reason alone.
See some reactions below,
@abdul_ubello wrote, "Girls will find the most flimsy excuses to cut off guys they never liked in the first place
"
@abbah_blaze wrote, "Normally if this 40+ Man get money.. you nogo serve that breakfast just because he's lip-sinking a song.. word to word.. Nothing you nogo see for this life if you no get money
. Poor O.G"
@ceruobodo wrote,
"lol
Singing or knowing a song is now a sin or an act of immaturity?he's only been real.
Is there any recommended age to stop listening to songs like that?
since when does knowing a song becomes a form of assessing a man's maturity level.
Lucky man lost what would have killed him."
@mahmud_fareeda wrote, "You're not nice..do you know the amount of effort he used in cramming that song,sing it in front of you,.just to impress you?
"