A lovely little girl has taken netizens by surprise after a video of her displaying her impressive talent was shared on social media.
The now viral video which was shared online shows the lass tending to an adult's hair with all seriousness like a professional would.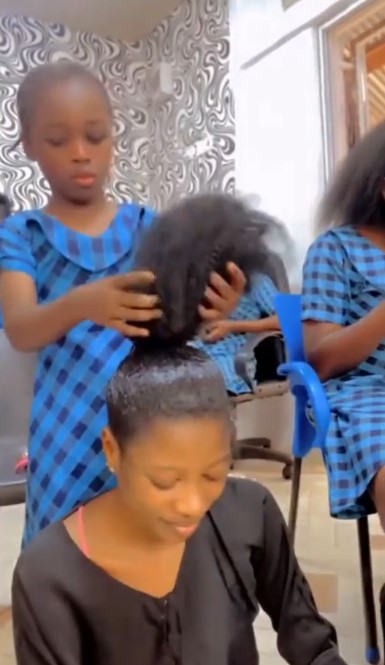 Watch the video as you scroll,
In an unrelated report, it appears that the internet is yet to see the end of transformation video trends as netizens continue to shock users with their content.
In a new video that was shared online, a young lady wowed social media users as she showed off her what she used to look like before compared to what she looks like now.
According to her, her throwback self was dumped by her then boyfriend because she was too much of a religious fanatic but little did he know that she'd go on to become something entirely different from what anyone would have expected.
In crystal clear contrast to what she was before, the latter part of the lady's video shows her in a light not many would have expected she would become many years back.
She starts her now viral video with throwback photos of herself all covered in Hijab, looking like a devoted Muslim and then ends the video with photos of herself donning sexy clothes that highlights her curvy body figure. Watch the video here