Ace Nigerian music director, TG Omori has revealed that the cost of shooting Asake's hit single, Joha's music video is $165k.
TG Omori's music video charges have been a subject of conversation for the past week. Initially, it was Blaqbonez's rant and then Portable's.
An internet Troll had taken to Twitter to opine that " TG omori doesn't have one video that warrants his price to be $50k" in an attempt to downplay his work. Omori in his repose to the troll, shocked netizens after he shared that Asake's rave single, Joha cost $165k to shoot.
TG wrote in his words:
"Joha video is about $165k. Crying? "
See post below;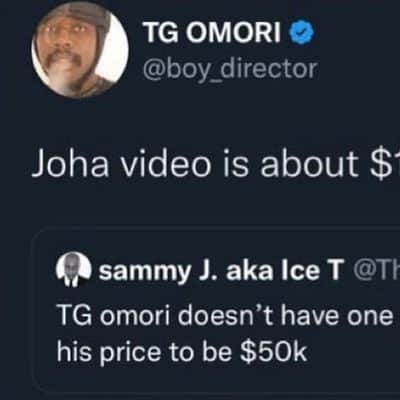 "Portable Wants To Employ BlaqBonez's Scheme" – TG Omori Reacts To Portable's False Alarm
Boy Director, also known as TG Omori has reacted to Portable's rant about his outrageous charge over a music video shoot. Recall that Portable called TG Omori out for charging him the sum of $50,000 for a music video. He added that TG was stressing him already, which means he is not ready to help.
Reacting to his rant, TG took to Twitter, where he revealed that the street musician is well aware of his motives. He disclosed that the message came in 15 days ago and that the video is already in the works. Additionally, he revealed that Portable is only trying to employ the same scheme as rapper, Blaqbonez just to push the coming music video views.
TG wrote:
Lol portable knows what he's doing. The message came in 15days ago he didn't react but boy has a new video in works. he's trynna use the Blaqbonez strategy to push views. Ogbon sodiqi.
See post below;