Delectable Nollywood actress, Genevieve Nnaji who is one of the many celebrities to have spoken out against police brutality in Nigeria has slammed Governor Nyesom Wike of Rivers State after the latter barred residents of the state from staging an #EndSARS protest.
In a statement released last night by his Commissioner for Information and Communications, Paulinus Nsirim, the governor said the proposed protest in the state is prohibited.
Reacting to the ban by Wike, the "Lionheart" actress fired back at the governor saying that he chose to be a dictator when he could have chose to be any kind of leader.
She queried him further by asking if he has children. She wrote: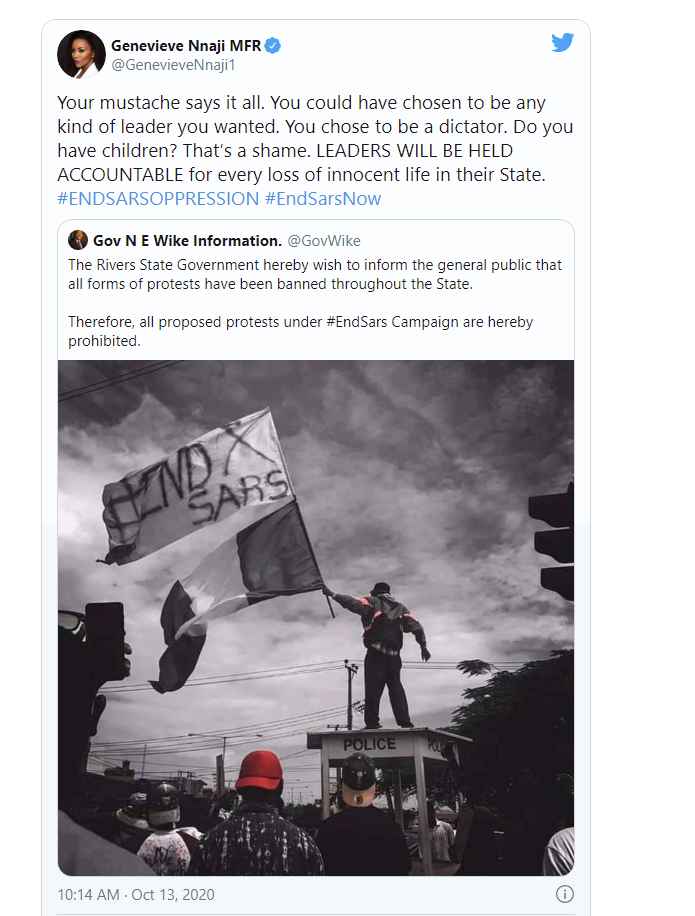 "Your mustache says it all. You could have chosen to be any kind of leader you wanted. You chose to be a dictator. Do you have children? That's a shame. LEADERS WILL BE HELD ACCOUNTABLE for every loss of innocent life in their State. #ENDSARSOPPRESSION #EndSarsNow'.'
Despite Wike's ban, residents defied the order and trooped out in large numbers today to protest.
The #EndSARS protests have been going on in different states in Nigeria with Nigerians abroad also joining in on the protest from different countries.
Although SARS has been dissolved, the protesters are demanding, amongst other things, a total overhaul of the police force and the release of all arrested protesters.