Nigerian vlogger and media personality,

Toke Makinwa

has subtly shut down a social media troll who wanted to make her butt surgery a topic of discussion.
The self acclaimed baby girl for life who turned 36 on Tuesday, November 3rd took to her Instagram page to share a photo of herself flaunting her perfectly shaped butt.
However, the Instagram follower had something to say about her butt, but Toke instantly shunned him.
He wrote, "Toks don go do yansh oooo".
In response she wrote,
"You are late to the party love."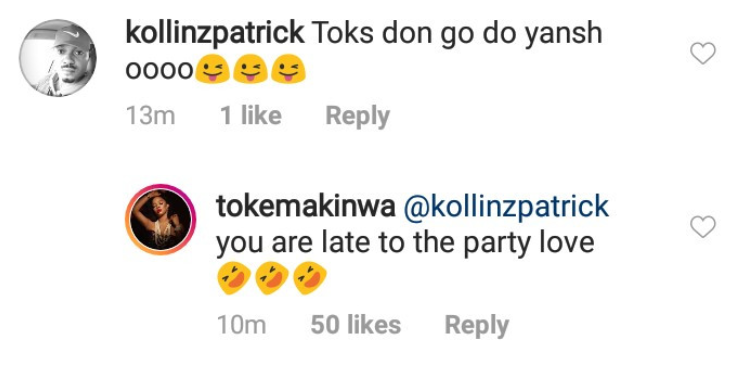 In other news, the socialite recently gave an insight into the challenges and emotional hullabaloo she has had to face this year, and some of her expectations which are yet to materialize.
The multi-talented entrepreneur shared a lengthy post detailing her struggles. According to her, she said she had expectations that by this time she will be posting "baby on the way" photos, but her belly is still flat and waist snatched.
In her words,
"The month of October was not the best I've felt, I don't just want to post glam pictures cos I do love the glam life but that's not all there is to me. I have been given this platform to share, to rise, to fall, to bare it all so you all know that there's nothing like picture perfect, we are all just trying to figure life out.
I was stressed emotionally, exhausted spiritually, working round the clock feeling empty cos I had so many expectations and it seemed like the devil heard be brag so loud about how good God has been to me, he decided to test my mind. Falling sick after God told me the plague in the land will not visit my family, oh I had expectations that this time November 2020 I will be posting baby on the way pictures but my belly is still flat, and my waist is still disappearing . The only thing I had going for me was work.

"Losing friends to betrayal and my anxiety on a all time high, I couldn't travel cos my work load kept piling and I just wasn't feeling great. I stopped praying cos I was tired of the same prayer points and as my birthday drew closer I felt even more anxious.
Toke Makinwa shuts down a fan who said she had butt surgery