In a surprising turn of events, a Nigerian man hailing from Abia state has set the internet ablaze with talks and jaw-dropping reactions. The reason behind the buzz? He is reportedly prepared to tie the knot with not just one, but two women on the same day! Yes, you heard it right.
In this modern day and age, where monogamy is the norm, this unique situation has definitely caught people's attention. The news as lead to a lot of reactions and discussions from curious observers and amused onlookers alike.
The online world has been buzzing with curiosity and awe. People are wondering, "How is this even possible?" and "What was he thinking?" While it may seem odd and unconventional, this man's decision has certainly got everyone talking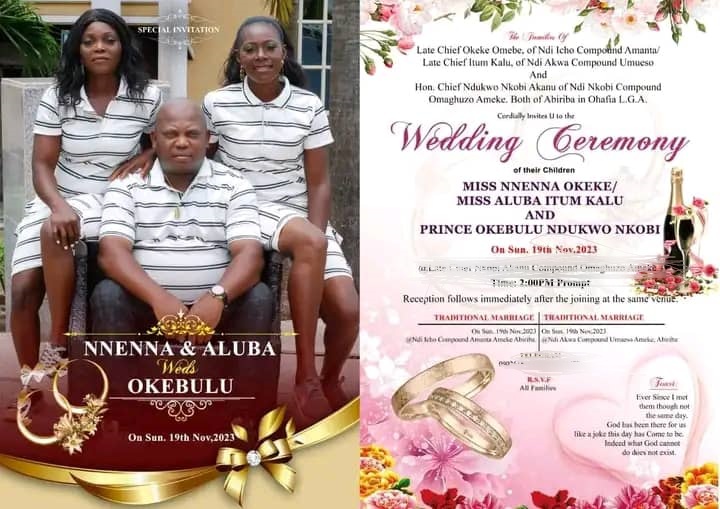 Of course, alongside the laughter and jokes there are also serious questions being raised. Some individuals are reflecting on the cultural and social implications of such an event, contemplating the various perspectives on marriage and relationships in different parts of the worlds.
Whether you find it intriguing, unbelievable, or perhaps even absurd, one thing is for sure Nigerians definitely have a lot to say.
Let's explore some of the responses that poured in:
@sheismyspec reacts I don't understand how this is perceived as enjoyment. In my opinion it is stressful and more responsibility. Single guys have more freedom to enjoy multiple women, so I don't know what
@eniola4692 reacts This life no just balance
as long as they are happy
understanding is the key
they are the blidesssssssss
@jumokewilliams_ reacts Has it really gotten to this level? It is well o
@inumidun_ reacts Digging an early grave for yourself thinking it's enjoyment, how do you handle two women… The lord is your strength, pele oko mi
@ladyque_ reacts Marriage never start he don dey frown face